Heavy Duty Apex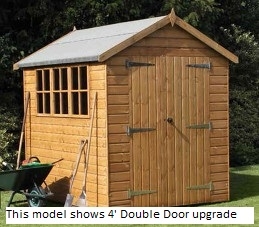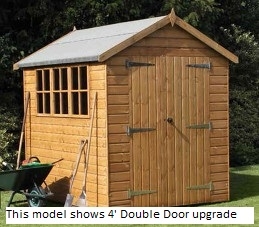 Categories
Share QR Code
Scan Me with Smartphone QR App
Delivery
Nationwide Delivery
Within 2 to 4 weeks.
We will deliver and erect your shed.
About this item
The Heavy Duty Apex is a versatile building with various door and window positions and is offered in a large range of sizes. Quality features include 50mm x 50mm smooth planed framing with diagonal cross bracing, interlocking shiplap cladding, ledged and braced door with zinc hinges, rim lock and door knob, a 3 pane georgian window glazed with horticultural glass and heavy duty green mineral roofing felt are all included as standard.
Specs
Prices From:
£813
Framing:
50mm x 50mm
Eaves:
1895mm
Ridge:
8' - 2490mm /
10' - 2595mm /
12' - 2690mm
Georgian Windows:
610mm x 457mm
(Fixed x 2),
552mm x 400mm
(Opener)
3' Door:
1880mm x 914mm
(Ledged & Braced)
Zinc Hinges
Rim Lock & Door Knob
Heavy Duty Roof Felt