Stratford Summerhouse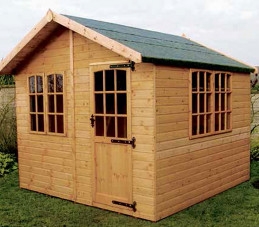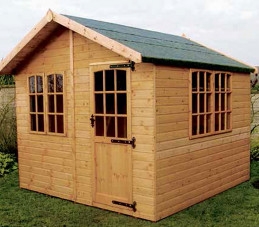 Categories
Share QR Code
Scan Me with Smartphone QR App
Delivery
Nationwide Delivery
Within 2 to 4 weeks.
We will deliver and erect your shed.
About this item
The Stratford is ideal if you are working from home to give you a designated working space, a room away from the rest of the house. This quality garden building offers a full height georgian half glazed joinery door with arch top, heavy duty bolted hinges 2no opening and 2no fixed georgian windows with arch top. A 1' roof overhang and heavy duty 72mm x 50mm framing are included as standard.
Specs
Prices From:
£1,982
Framing:
75mm x 50mm
Eaves:
2088mm
Ridge:
10' - 2790mm
12' - 2865mm
Georgian Arch Top Windows:
1000mm x1043mm (Front)
1413mm x 1043mm (Side)
(Toughened Glass)
Georgian Half-Glazed Door:
1990mm x 762mm
(Toughened Glass)
Roof Overhang:
1' - 305mm
Side Wings: 305mm
Black Heavy Duty Bolted
Hinges
Black Ornate Handle
& Lever Lock