Summerhouse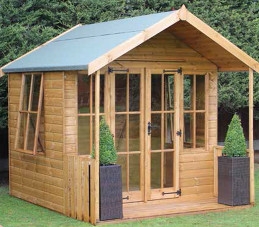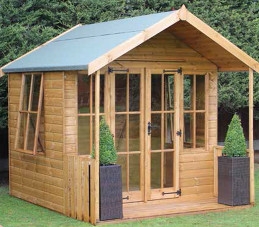 Categories
Share QR Code
Scan Me with Smartphone QR App
Delivery
Nationwide Delivery
Within 2 to 4 weeks.
We will deliver and erect your shed.
About this item
The Summerhouse is a tranquil haven for you to enjoy your garden. Quality features include 6 pane georgian double doors with black antique hinges and lever lock, 2no 4 pane georgian fixed windows to the front and 2no 4 pane georgian top hung opening windows to the sides, a 1' roof overhang are all included as standard. An optional 2'-6" or 4' veranda is available.
Specs
Prices From:
£1,299
Framing:
38mm x 50mm
Eaves:
1865mm
Ridge:
8'- 2466mm
10' - 2580mm
12' - 2700mm
Georgian Windows:
8' Front - 1010mm x 475mm
10' Front - 1148mm x 685mm
12' Front- 1148mm x 685mm
(Toughened Glass)
Georgian Side Window:
1148mm x 685mm
(Top Hung) (Toughened Glass)
Georgian Double Doors:
1780mm x 1092mm
(Toughened Glass)
Roof Overhang:
1' - 305mm
2'-6" Verandah (Optional)
Black Ornate Hinges,
Handle & Lever Lock
Reviews
Karen Todunter Date/Time: Saturday 28th of January 2017 03:54:14 PM
· 21 January 2017 Absolutely love our new Summerhouse. Thankyou for your excellent service and advice. Highly recommend.