Clumber Summerhouse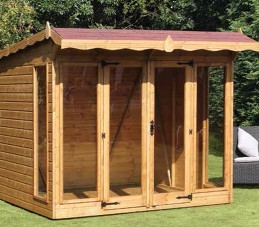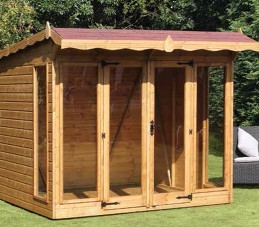 Categories
Share QR Code
Scan Me with Smartphone QR App
Delivery
Nationwide Delivery
Within 2 to 4 weeks.
We will deliver and erect your shed.
About this item
The Clumber Summerhouse is an excellent feature for your garden and is offered in a range of sizes. Quality features include contemporary full height double doors with black antique hinges and fixed windows to the front and sides. Toughened glass is included as standard. A georgian door and georgian opening windows option is also available. The front roof canopy is 485mm wide and has felt roof tiles in a choice of colours.
Specs
Prices From:
£1,270
Framing:
38mm x 50mm
Eaves:
1950mm
Ridge:
2170mm
Double Doors:
1780mm x 1092mm
(Toughened Glass)
Front & Side Windows:
1647mm x 515mm (8' Front)
(Toughened Glass)
Roof Canopy:
485mm
(Tiled: Black, Red,
Green & Slate)
Black Ornate Hinges,
Handle & Lever Lock