Studio Summerhouse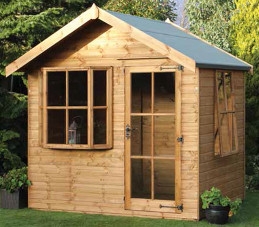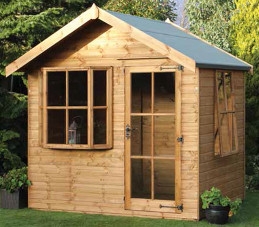 Categories
Share QR Code
Scan Me with Smartphone QR App
Delivery
Nationwide Delivery
Within 2 to 4 weeks.
We will deliver and erect your shed.
About this item
The Studio Summerhouse is a neat and sturdy retreat to enjoy your garden. Quality features include a 6 pane georgian door with black antique hinges, ornate handle and lever lock. A georgian bay window and 1no 4 pane georgian top hung opening window to the side are all included as standard.
Specs
Prices From:
£1,164
Framing:
38mm x 50mm
Eaves:
1865mm
Ridge:
8'- 2490mm
10' - 2570mm
12' - 2655mm
Georgian Bay Window:
1035mm x 1035mm
(Toughened Glass)
Georgian Side
Window: 1148mm x 685mm (Top Hung)
(Toughened Glass)
Georgian Door:
1790mm x 762mm
(Toughened Glass)
Roof Overhang:
1' - 305mm
2'-6" or 4' Veranda
(Optional)
Black Ornate Hinges,
Handle & Lever Lock