Daylight Summerhouse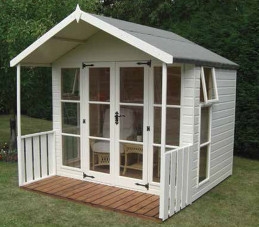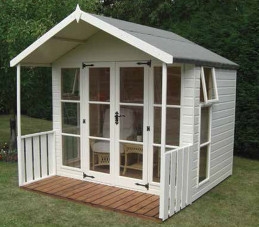 Categories
Share QR Code
Scan Me with Smartphone QR App
Delivery
Nationwide Delivery
Within 2 to 4 weeks.
We will deliver and erect your shed.
About this item
The Daylight Summerhouse has a sturdy compact design that fits unobtrusively into your garden. Create your own little haven of tranquility with this stylish and traditional summerhouse. The perfect choice for a hobby room, or a place to relax and unwind. Quality features include triple pane full height double doors with antique hinges and ornate handle with a 3 lever lock, 2no triple pane fixed widows to the front and 2no triple pane windows with top openers to the sides.
Specs
Prices From:
£1,039
Framing:
38mm x 50mm
Eaves:
1865mm
Ridge:
8'- 2466mm
10' - 2580mm
12' - 2700mm
Windows:
1622mm x 452mm
(Toughened Glass)
Double Doors:
1790mm x 1103mm
(Toughened Glass)
Roof Overhang:
1' - 305mm
2'-6" Veranda
(Optional)
Black Ornate Hinges,
Handle & Lever Lock